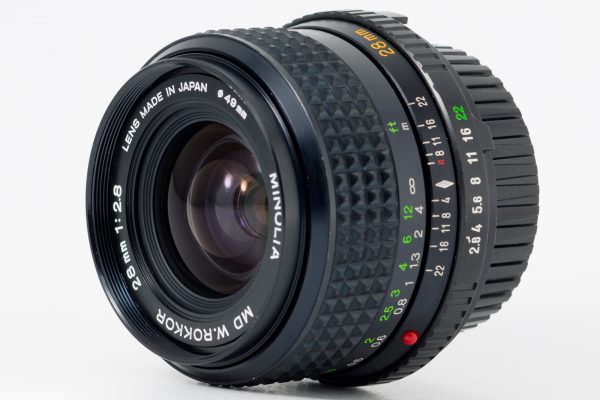 Today I'd like to present a lens that is still very common and can be had for little money.
Minolta introduced the optical design in the MC version, which succeeded the slightly faster MC W.Rokkor 28mm 1:2.5. The model shown here is the second MD W.Rokkor model, easily recognizable by its tapered build and 49mm filter thread; by the frequent offerings on eBay and similar sites I'd venture a guess this has been the most popular version.
Specification
The data pertain to the version shown above.
| | |
| --- | --- |
| Lens mount | Minolta MD |
| Focal length | 28 mm |
| Largest aperture | f/2.8 |
| Smallest aperture | f/22 |
| Minimum focus distance | 0.3 m |
| Optical design (elements/groups) | 7/7 |
| Filter thread size | 49 mm |
| Weight | 180 g |
| Introduced | 1978 |
History
Due to its popularity there have been quite some model variations based on the same optical design of 7 elements in 7 groups. It appeared first in 1975 in the form of a MC W.Rokkor.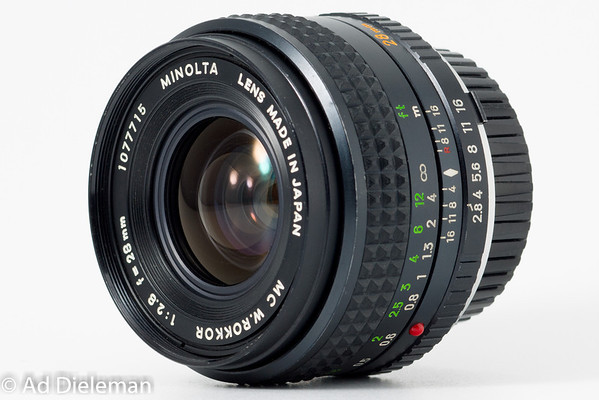 Minolta came with a budget version for the North-American market in the form of a Celtic variant.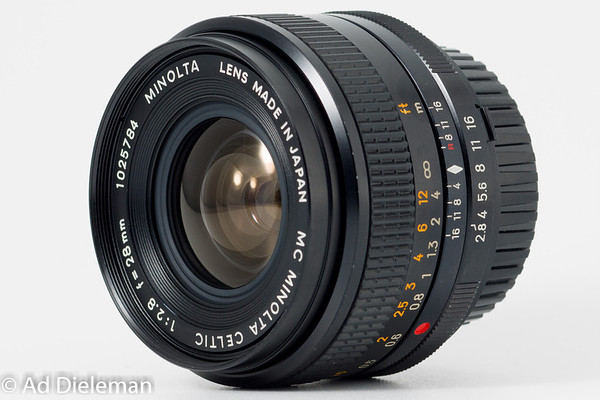 In 1977 the lens was updated to an MD W.Rokkor version to service the XD7's dual exposure automation.
Again a Celtic model appeared for the North-American market.
Soon enough the MD W.Rokkor got a cosmetic update and lost some weight to conform with the trend to more compact lenses dictated by the Olympus OM cameras. That is the version featuring in this post, repeated here for the sake of clarity and completeness.
Also this more compact lens was offered as a Celtic model.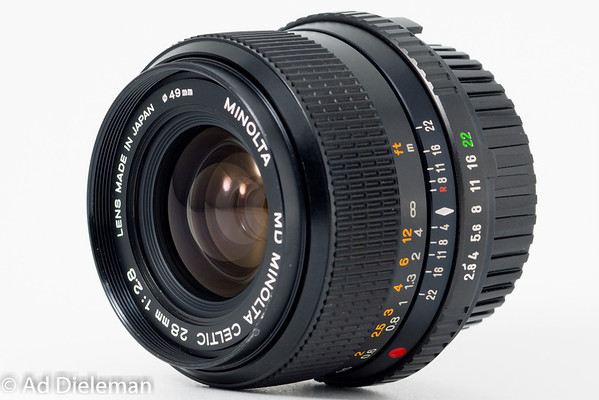 I have seen several samples of a MD W.Rokkor variant with the looks of the Celtic lens but with the Rokkor designation up-front. Some people state that these are fakes; I don't have enough information to confirm or deny that.
The last guise in which the optical design appeared was the plain MD version without Rokkor designation, introduced in 1981.
Later a successor with a simpler optical design appeared with the same 28mm 1:2.8 specification.
Image quality
All test shots are made with the Sony A7R2.
Here is the usual test scene.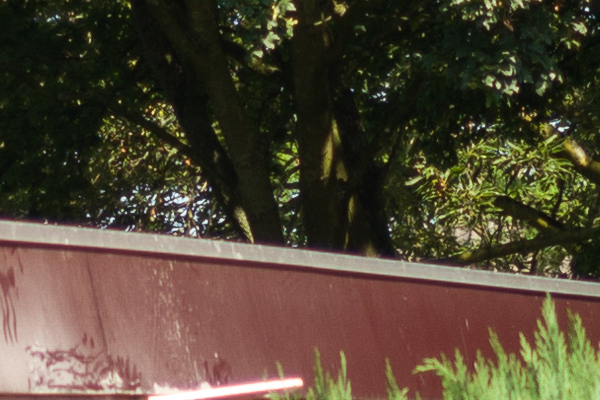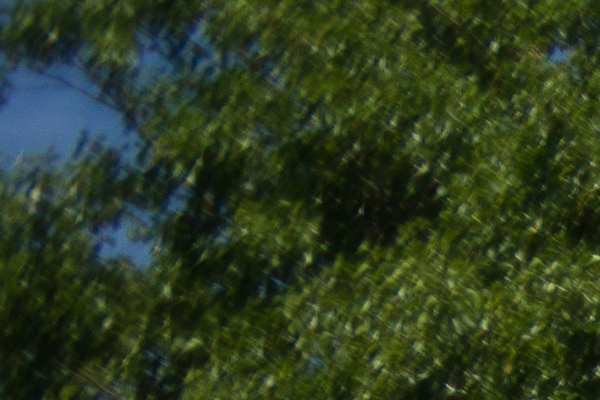 To me this image quality wide-open is quite respectable, except for the extreme corners. Stopping down to f/4 though delivers more contrast and the veiling flare is gone.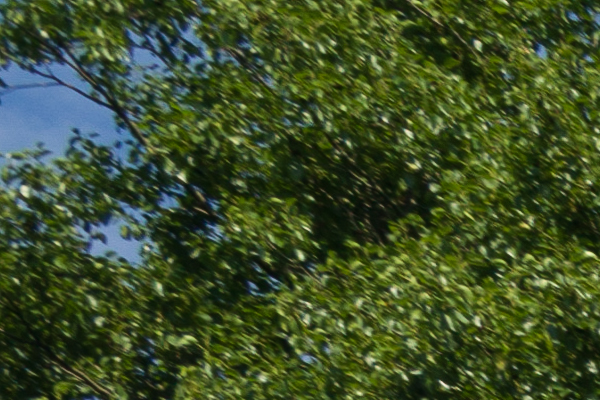 Centre sharpness is excellent but the upper left corner is a bit disappointing. From what I see it's coming from curvature of field that becomes more prominent on stopping down; the lower right corner crop is sharper while it is much closer.
Epilogue
The Minolta MD W.Rokkor 28mm 1:2.8 is an affordable introduction into the world of wide-angle legacy lenses, offering very decent image quality in a small and light package; its biggest weakness is curvature of field. I actually would prefer this lens for landscape use over the FE 3.5-5.6/28-70mm which isn't all that great at 28mm in edges and corners. However, in my experience the Minolta 28mm is outperformed by the Sony FE 2/28, 4/24-70 and 4/16-35 lenses at their corresponding focal lengths, no contest.